Didn't sleep properly? Here come the dark circles. Ate oily food? Viola, it's the pimples. Slept with make-up on? Hola! rashes, and acne it is now. The road to flawless skin seems to be a dream.
Whenever a new product is launched claiming skin benefits, you want to give it a try. And the same goes for Kumkumadi Tailam, every girl in the city is going insane since it's claimed to be a miracle oil, giving you a flawless and glowing skin.
"Beauty is not caused. It is."

Emily Dickinson
The top skincare brand in the market manufacture Kumkumadi tailam and promotes it as a "miracle oil". But Kumkumadi tailam is no miracle oil, it's a skincare treatment oil.
But the question here we are going to crack is, does the oil really solve all skin problems or is it just a marketing stunt?
1. What Is Kumkumadi Tailam?
It is an ayurvedic face tailam, leftover on your face overnight to enhance the skin texture and to get a natural glow.
The oil is prepared by the guidelines of Ayurveda Sastra. It is an amalgamation of flower, plant, fruit, and milk extracts.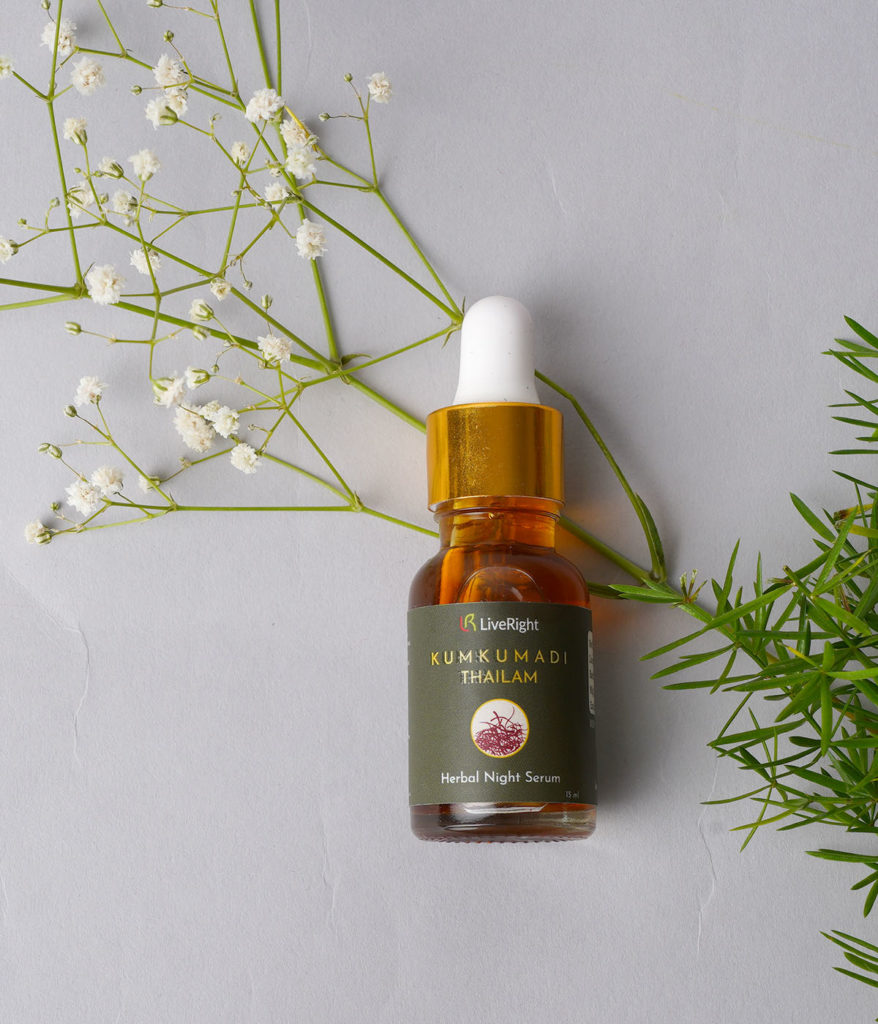 If you are a first-time user, you will be excited about the product packaging. It comes in a small cute bottle with a dipper and a roller. You can smell the saffron fragrance and petals of it floating in a medium-thick consistency oil bottle. The vivid orange color makes you fall in love with it.
As per Ayurveda,
वर्ण, त् क स्तुतिविस्तारशुक्लाद्युद्युक्तिदीपने ।
Varna is the root which means दीपन (deepana) or illumination. Something that is lighting. Therefore 'Varnayati (deepyate) iti Varnah'. The one that lightens is Varna – color. Based on this root, Varna can also mean Kumkuma (saffron) and Gold.

Kumkumadi Tailam contains ingredients that enhance the skin color of a person and makes the skin glow.
2. What Are The Ingredients Of Kumkumadi Tailam?
"Don't rely on labels to give you the information you need. Trust only the ingredient list and your gut."

– Yancy Lael.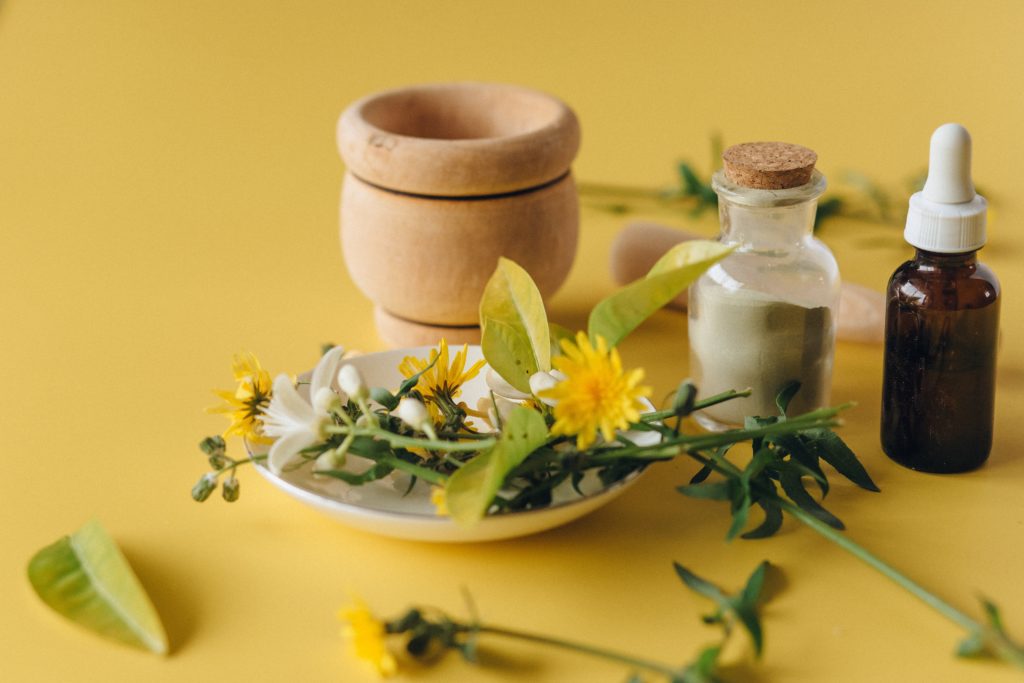 Kumkumadi Tailam is prepared with 27 herbs. Each has a beneficial action on the skin. Here are some of the benefits of the main ingredients.
| | |
| --- | --- |
| Ingredients | Benefit |
| Kesar | Reduces pigmentation, gives skin a natural glow |
| Chandana | Skin lightening, soothing effect |
| Manjistha | Anti-inflammatory, antioxidant, and antibacterial properties |
| Yashtimadhu | Diminishing dark pigmentation and aids in skin lightening |
| Laksha | Anti-fungal properties |
| Vat vriksha | Improves skin tone and complexion. Blocks toxic effects of allergens |
| Pakar | Treats acne, ulcers, and burning sensation of skin |
| Nikand | Acts as coolant |
| Bael | Anti-bacterial, anti-fungal, and anti-inflammatory properties |
| Dashamoolas | Treat excessive dryness of the skin |
| Daruhaldi | Reduces acne, dark circles, and fine lines |
| Ushira | Cooling and cleansing properties |
| Padmaka | Skin brightening |
| Mahua | Gives glowing and radiant skin |
| Pattanga | Purifies blood |
| Sesame oil | Has cooling effect and prevents sebum secretion |
| Cow milk | Enhances skin's natural complexion |
3. How Is Kumkumadi Tailam Prepared?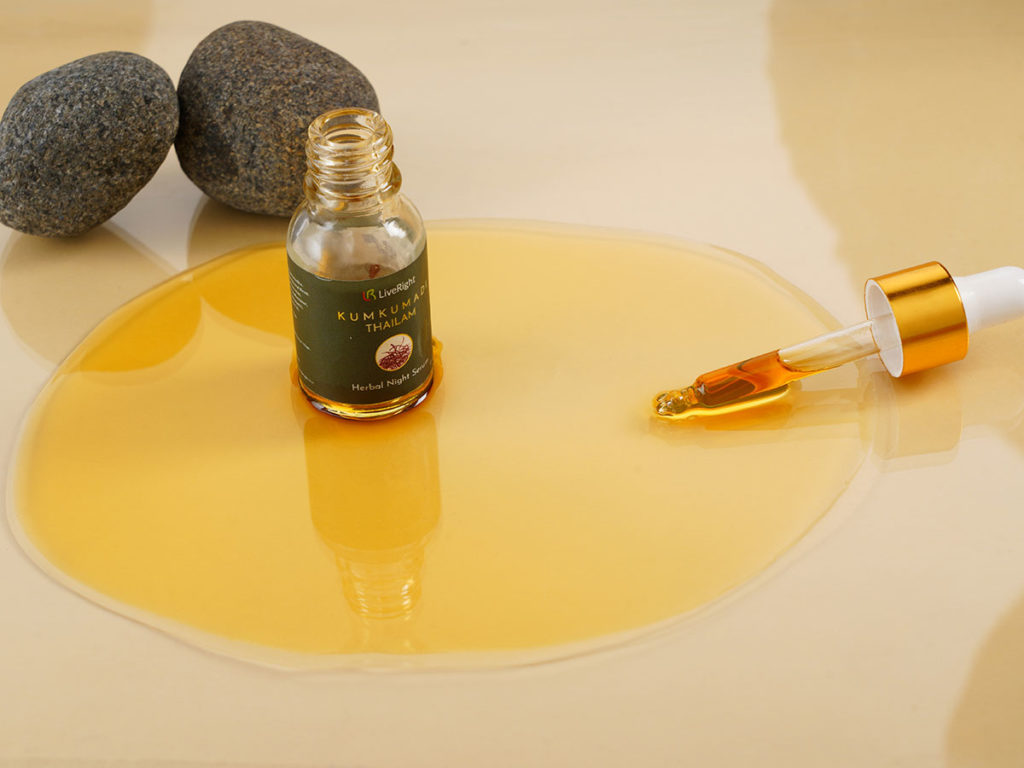 A decoction is made of Chandan, Manjistha, Yashtimadhu, Laksha, Vata Vriksha, Plaksha, Nilkand, Kamal Kesar, Daruhaldi, Ushira, Padmaka, Agnimantha, Bael, Brihati, Gokshura, Kantakari, Gambhari, Patala, Shalaparni, Prishnaparni, and Shyonaka.
This decoction is boiled in a sesame oil base until the foam subsides.
Then Kalka (thick paste) is made, it consists of Manjistha, Yashtimadhu, Mahua, Laksha, and Pattanga. This Kalka is then added to the already prepared sesame decoction and then boiled. It is boiled till the formation of foam stops appearing.
Then finally after sedimentation, cow milk and saffron are added. It is cooled down and transferred to a bottle. It has a lovely sunset orange color that takes away your breathe and makes you to give it a try.


4. Does Kumkumadi Tailam Really Lighten The Skin?
Many brands claim that Kumkumadi tailam lightens the skin. In reality, it does not. 
As per Ayurveda, thailam was discovered thousands of years ago for healing the marks left by skin disorders or skin inflammations.
The medicinal properties of this thailam can remove scars, marks, spots, or any significant indications on the skin that was caused by accidents, diseases, or weather conditions.
It also has cosmetic benefits like skin brightening, improving complexion, protecting skin from UV-rays, anti-ageing, diminishing spots and blemishes, and many more. All this is because of the ingredients present in the oil nourish the skin, brings out the natural color, and give the skin a lovely glow.
The ingredients have anti-inflammatory, anti-oxidant, depigmenting agents, anti-fungal, and anti-bacterial properties that does more good. Hence making skin radiant as the sun.
5. Benefits Of Kumkumadi Tailam
Acne Scars & Pimple Marks
If you have the habit of popping out acne then you will need Kumkumadi tailam in your routine because it can remove those marks caused by the pus. Also, the antibacterial properties of KumKumadi tailam prevent the spread of acne and contain the acne-breakouts.
Moisturises Skin
Dry skin people usually wake up with a flaky texture on winter mornings. When you massage your skin with Kumkumadi tailam every night and go to bed with it, your skin feels more supple than it used to be. The cow milk and sesame oil can work magic on dry skin when used every night.
Face Glow
There is a misconception about-face glow. It doesn't mean that your skin is going to shine like the sun or reflect golden sunshine when light falls on it. A face glow is the one where your skin complexion looks the same throughout the face. As Kumkumadi tailam can remove the spots and moisturize the skin it automatically leaves an even complexion-aka- face glow.
Even tone
A flawlessly even tone skin is a dream to many. And this Kumkumadi Tailam is the key to attaining it. The presence of Manjishta, Chandana, and Mahua lightens the complexion and gives an even-toned skin. Besides this, it also soothes and cools the skin.
Anti-aging
Climate change makes the skin lose its eternal glow. The blazing sun and harsh chemicals rip away the skin's moisture. Ultimately this leads to the formation of fine lines and wrinkles. Kumkumadi Tailam is enriched with herbs that defy the aging process and retains youth and glow.
How To Use For Different Skin Types?
Every skin type is unique and beautiful in its own way. If you don't take proper care accordingly, the result will be disastrous and you will end up feeling bad.
Even the product's effectiveness will be visible when it is used according to the skin type. Because each skin type is different and needs its own special care and love. According to Ayurveda the world is made of five elements-  aakash (space), jala (water), prithvi (earth), teja (fire), and vayu (air). A combination of each elemnt leads to three doshas. These doshas are believed to be central point of any treatment, cure, and well-being. The skin types are also based on the doshas.
Discover your dosha and analyze how to use Kumkumadi Tailam for your skin type.
Kumkumadi Tailam For Vata Skin Type
Vata Dosha predominant people have excessive skin dryness and roughness. Vata is air, synonymously lightness and movement are their nature. They are more prone to skin problems.
Their skin is like a desert- completely dry, without any moisture, and becomes lifeless if proper care is not taken.
So they must hydrate their skin enough. Kumkumadi Tailam is sesame-based oil, therefore, it soothes and hydrates the skin.  It nourishes the Vata's skin and makes it supple and soft.
Kumkumadi tailam reduces the amount of dryness and allows the skin to feel hydrated in the morning. You wake up fresh as a daisy and enjoy the radiant skin that this oil brings out.
Directions of use:
Take a few drops of Kumkumadi Tailam in hand and apply it evenly on the face and neck.
Massage with your fingers for greater penetration. Leave it on the face and neck overnight.
Wash it off in the morning with a mild herbal soap or gram flour. Use this four times a week and see the results yourself.
Kumkumadi Tailam For Pitta Skin Type
Pitta skin is like a touch-me-not plant, sensitive to anything and everything. Dealing with this skin requires lots of love and care.
Pitta people suffer from oiliness and acne marks in the T-zone. Pitta's body is hot and they elude lightness. So when oil is applied, the penetrating power will be high. But sometimes it leads to the formation of pimples and acne in the T-zone.
Many external reasons also strip away Pitta's glow and beauty. They need detoxification and cleansing to keep their skin healthy.
Thus, using Kumkumadi tailam can reduce the oiliness, lowering the chances of sudden pimples on the face. Ultimately making the skin glow like the sun.
Directions of Use:
Two hours before going to bed, take a few drops of Kumkumadi Tailam in hand and apply evenly over the face and neck.
Massage the face and neck area using your fingers. Wash it off with herbal soap.
Weekly thrice is the best way to enrich your skin.
Kumkumadi Tailam For Kapha Skin Type
Kapha dosha is blessed with gorgeous skin. It is like porcelain polished, soft, and without any bumps. They have smooth and clear skin which is oily in nature. When Kapha dosha is balanced, it looks glossy, plumpy, and lustrous. But when it is imbalanced, it leads to skin breakouts and pimples.
Excess oil can lead to the clogging of pores in the skin. This will lead to problems like acne, whiteheads, and blackheads. Excess toxins need to be eliminated to cleanse the Kapha skin
Kumkumadi Tailam stabilizes the oiliness of Kapha and gives a dewy, dreamy skin.
Directions of Use:
Take a few drops of Kumkumadi Tailam and apply it evenly on the face.
Wash with ubtan or sandalwood powder to keep the oil and the acne at bay
Use Kumkumadi Tailam twice a week or you can use it on alternative nights.

Do not leave it overnight because it will increase the oiliness.
.
P.S.– 1. Do a patch test on hand before usage.
2. Do not go out in the sun if you have applied it in the morning.
Conclusion
Kumkumadi Tailam is infused with herbs beneficial to the skin. It does not just lighten and brighten your skin, it also treats all skin-related ailments. Since it's an Ayurvedic concoction there won't be any side-effects, you can use it without any fear.
There are many misconceptions about the Ayurvedic skin care products in the market. When you try a new product in your routine, be safe to do a patch test and then use them on your face. It is also essential to understand the benefits of the product properly and then try them.
"Beauty is an experience, nothing else. It is not a fixed pattern or an arrangement of features. It is something felt, a glow or a communicated sense of fineness."
Kumkumadi Tailam is no miracle oil, it just brings out the glow your skin needs. Go be the glow-getter! Glow today, Glow every day!