Brightening – "does it make my skin white and fair?"
We all look for overnight fairness by using any beauty product. Isn't it?
But real beauty can't be conquered overnight. Use Nalpamaradi Thailam to protect your natural skin tone in this polluted world.
What is Nalpamaradi Thailam?
Nalpamaradi Thailam is an Ayurvedic herbal oil used in treating various skin problems and fungal infections. Not only that, but it also helps in nourishing your skin. The name "Nalpamaradi Thailam" is derived from the four different species of Ficus trees used as ingredients, collectively known as nalpamara.
Those four species are;
Ficus benghalensis – Nyagrodha (banyan tree)
Ficus racemosa – Udumbara (cluster fig or gular tree)
Ficus religiosa – Aswatha (peepal tree)
Ficus lacor – Plaksha (java fig tree)
Other ingredients used are – Turmeric, Chandana (red sandalwood), Vetiver, Amalaki, Manjishta, Sevya, Plaksha, Parpata, Kushta, Chora, etc.
The base of the thailam is oil. Have you ever wondered why? It is because oils are the most suitable medium to facilitate the absorption of these ingredients into your skin.
Does Nalpamaradi Thailam help in Skin Brightening?
The dead cells or the dirt in your skin will get clogged in the pores of your skin. This results in dullness of the face or skin. Also, dryness due to dehydration causes wrinkles on your face. Nalpamaradi Thailam helps remove these dead cells or dirt, and the sesame oil base hydrates your skin. Naturally, hydrated skin will look healthy and bright. So, it helps to bring back your natural skin tone in a brighter and better way. You can also observe a visible skin glow after using this thailam regularly.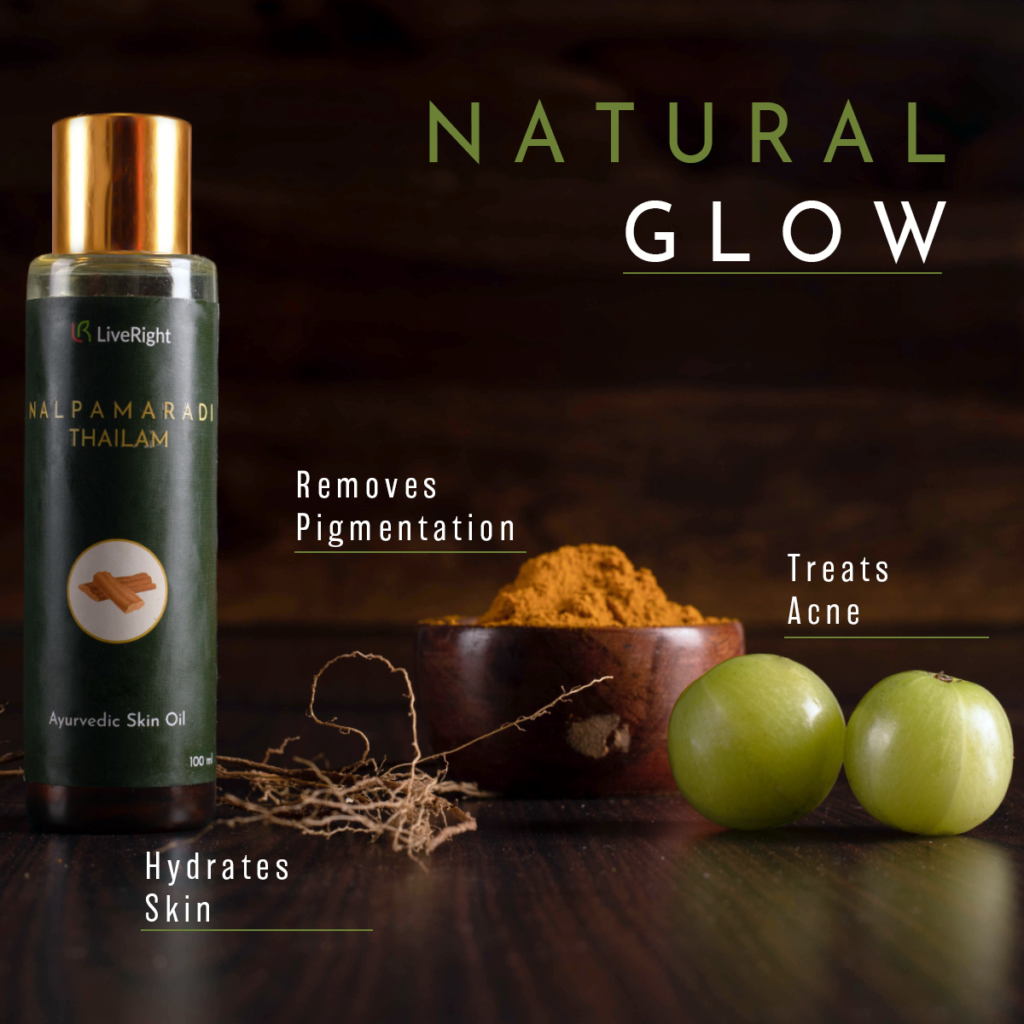 What other skin problems does Nalpamaradi Thailam solve?
Nalpamaradi Thailam plays many roles in making your skin glow. Other benefits of Nalpamaradi Thailam are;
It lightens pigmentation marks left by acne and sun tan.
It treats skin dryness, redness, and itchiness.
Removes sun tan and dark spots when used regularly in a proper way.
It helps remove dullness from your face, making you feel glowing skin.
The sesame oil in the thailam promotes skin hydration and helps remove dead cells and dirt clogged in the pores making way for bright skin.
It lightens stretch marks.
It solves your wrinkle problems caused due to dryness through its anti-ageing property.
The thailam helps in lightening the scar marks, but it doesn't help in removing them completely.
Nalpamaradi Thailam is anti-inflammatory, anti-fungal, anti-pruritic, and anti-oxidant by nature. So it is widely used for fungal infections too.
The anti-bacterial property of the thailam prevents the formation of pimples and acne. So it is safe to use Nalpamaradi thailam on pimple and acne areas.
RELATED: Nalpamaradi Thailam : 25 Frequently Asked Questions
"Nalpamaradi Thailam nourishes, hydrates, and de-tans your skin and makes you feel glowing skin."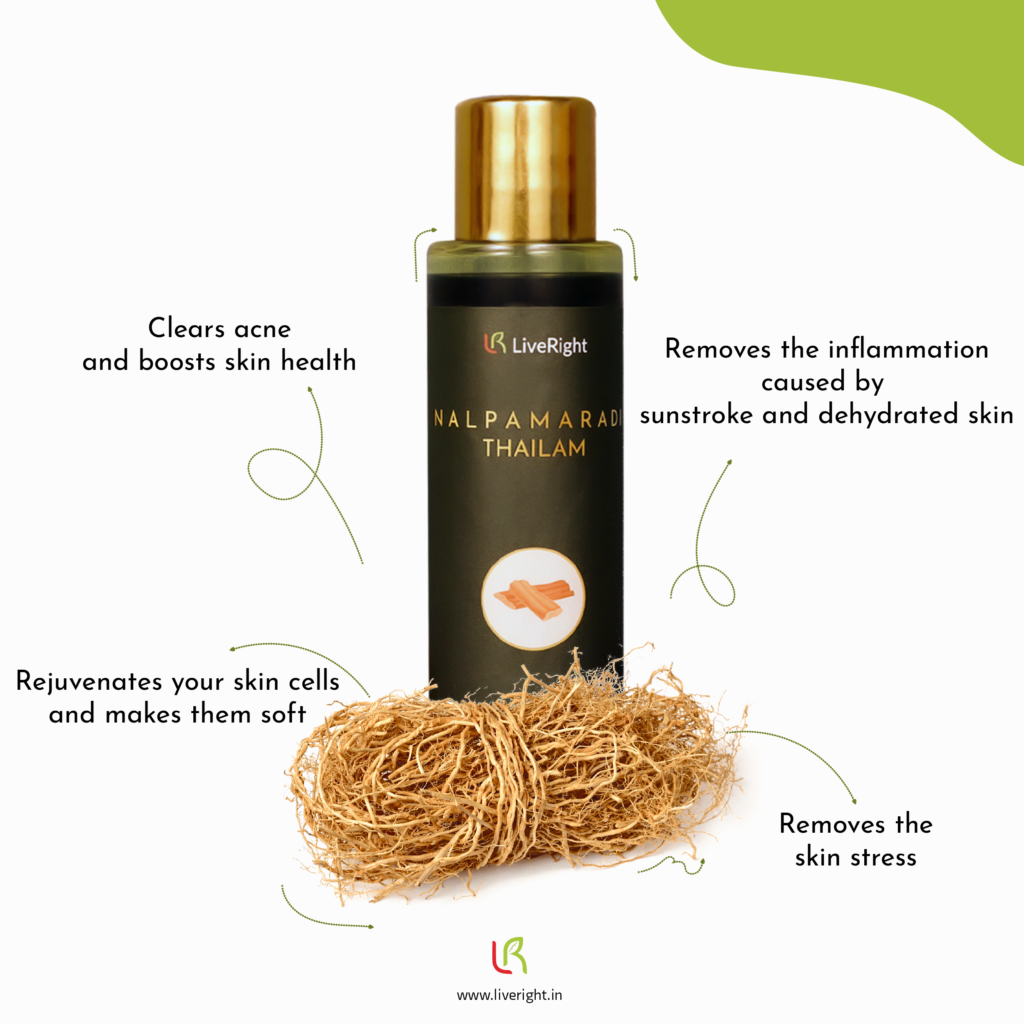 What are the Ayurvedic benefits of the ingredients used in preparing Nalpamaradi Thailam?
Nalpamara: The combination of these four trees is proven scientifically to have anti-microbial, anti-fungal, and skin cleansing properties. It also has wound-healing and anti-oxidant principles suitable for your skincare routine.
Ficus benghalensis – Nyagrodha (banyan tree)
Ficus racemosa – Udumbara (cluster fig or gular tree)
Ficus religiosa – Aswatha (peepal tree)
Ficus lacor – Plaksha (java fig tree)
Triphala: This popular combination is already well-known for its remarkable healing properties. Added to this, they prevent aging, help retain the skin's moisture, and also maintain the texture and tone of the skin.
Terminalia chebula – Haritaki
Terminalia bellirica – Vibhitaki
Emblica officinalis – Amalaki
Sesamum indicum – Tila taila (sesame oil): Enables the absorption of active principles into the skin, and itself being the best vata reducing agent, it protects your skin during all seasons. 
Pterocarpus santalinus – Chandana (red sandalwood): Blood purifier, heals acne, removes tan and discoloration.
Vetiveria zizanioides – Sevya (vetiver): Retains moisture, anti-bacterial and skin coolant.
Saussurea lappa – Kushta (costus root): Prevents skin allergies and infections and relieves itchy skin.
Rubia cordifolia – Manjishta (madder): Excellent blood purifier, brings back the skin glow by removing dullness, heals infections, and removes excess oil production.
Angelica glauca – Choraka: Prevents skin allergies and infections and heals skin problems.
Fumaria indica –  Parpata (Indian fumitory): Balances the skin's moisture and protects the skin from heat.
Curcuma longa – Haridra (turmeric): Excellent anti-microbial, prevents all kinds of infections and allergies, improves circulation, and enhances skin glow.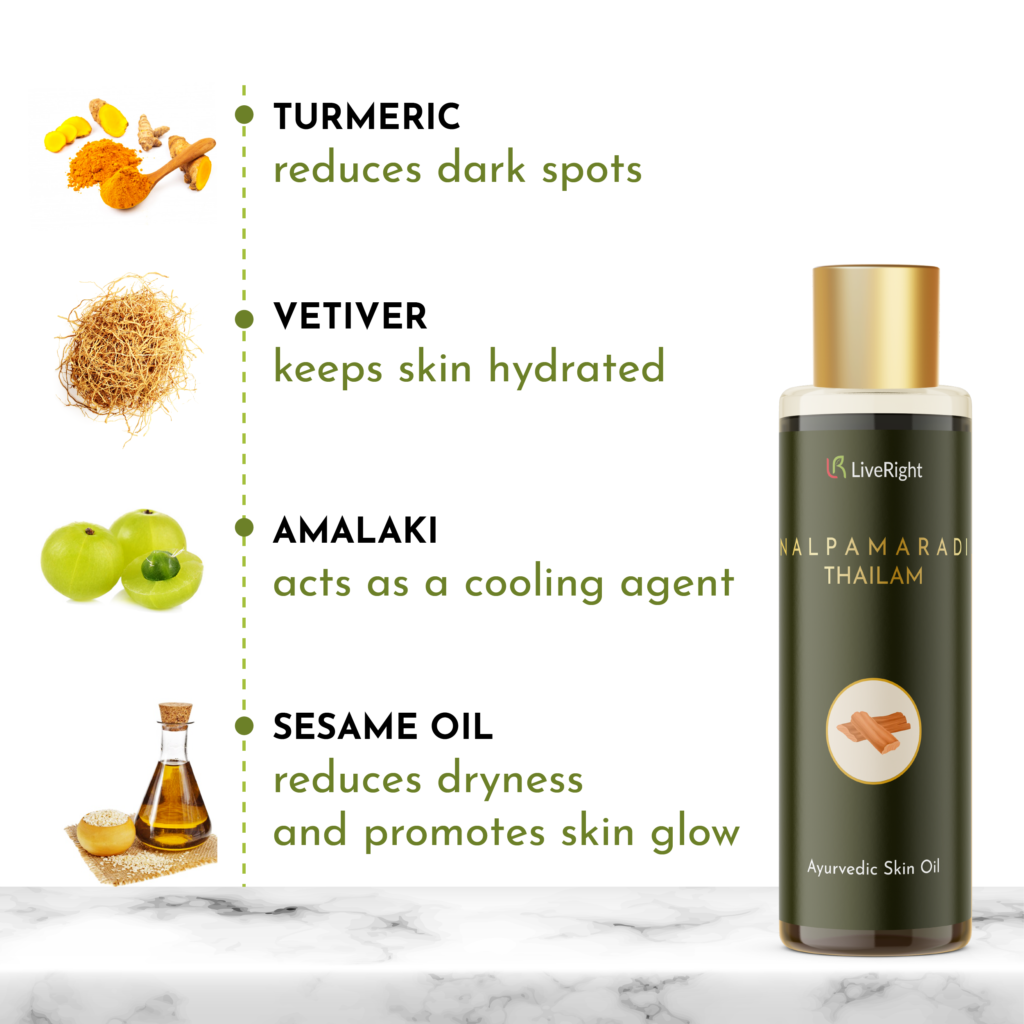 Benefits of LiveRight Nalpamaradi Thailam
The base oil used is sesame oil and not coconut oil. Sesame oil is a good ingredient for skin nourishment. A massage with sesame oil makes you feel warm and calm. Most important is that it balances your Vata. It also solves dryness, which is due to an imbalance of vata. What more do we want for healthy skin?
Everybody will have a different skin type. So use Nalpamaradi Thailam based on your skin type and feel its essence in blending a natural glow in your skin. If you have any doubts about Nalpamaradi thailam, please feel free to connect with us at 7550090922. Also, you can find LiveRight Nalpamaradi Thailam on LiveRight shop now page and on Amazon.