Before and after buying a new product, there are plenty of questions that run through your mind. You check with reviews, ask friends and try to google every little detail‌. To save you from all the hassle, we did some grunt work and picked out the most frequently asked questions about Kumkumadi Tailam.
What is Kumkumadi Tailam used for?
Kumkumadi Tailam is a skincare treatment oil, which is applied on the face and left overnight to enhance skin texture and to get a natural glow. It also has medicinal properties that heal the scars, marks, spots, or any significant skin indications caused by accidents, diseases, or weather‌.
Is Kumkumadi Tailam good for face?
Yes, Kumkumadi Tailam is suitable for the face. It is an amalgamation of herbs infused with skin benefits. Each herb has its own unique mechanism of action that enhances and makes the skin healthy. It is a completely natural product that makes it totally safe for the skin with no side effects.
Does Kumkumadi Tailam remove pigmentation?
Kumkumadi Tailam contains anti-inflammatory, anti-oxidant, and depigmenting agents that reduce the pigmentation of the skin.
Does Kumkumadi Tailam have any side effects?
No, Kumkumadi Tailam does not have any side effects. It is a skin care treatment oil made up of herbs. This is a bottle full of Ayurvedic goodness and beauty.
Can we use Kumkumadi Tailam daily?
Every skin type is unique and hence the needs of the skin is also variable. Kumkumadi tailam has to be used according to the skin type of the person. A Vata predominant person can use it daily, but Kapha and pitta predominant people should not use it regularly.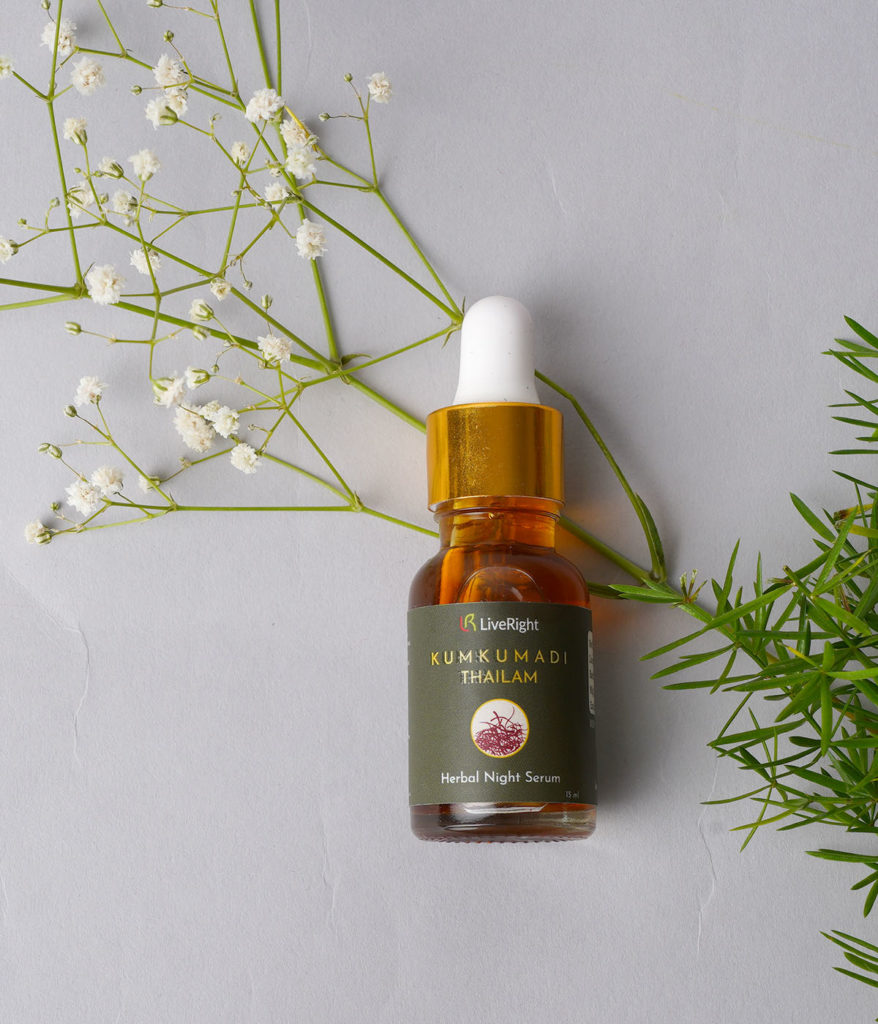 Does Kumkumadi Tailam darken the skin?
No, but if you go out in the sun after applying Kumkumadi tailam, there are chances of skin darkening. Kumkumadi Tailam contains a lightening agent and when exposed to the sun, it leads to the reverse action that is skin darkening.
Can I mix Kumkumadi oil with aloe vera gel?
Aloe vera and Kumkumadi tailam are both individually loaded with skin benefits. There is no need to apply them together.
Do Kumkumadi oil clog pores?
No, Kumkumadi tailam does not clog pores. If you have an oily skin type, make sure you use a minimal amount of oil.
Can I leave Kumkumadi Tailam on my face overnight?
Yes, you can leave Kumkumadi Tailam overnight.
How do I use the product to get the best results?
To gain maximum benefit, use the product according to your skin type. When used according to the skin type, not only does it make your skin glow, but it also prevents you from over using the product.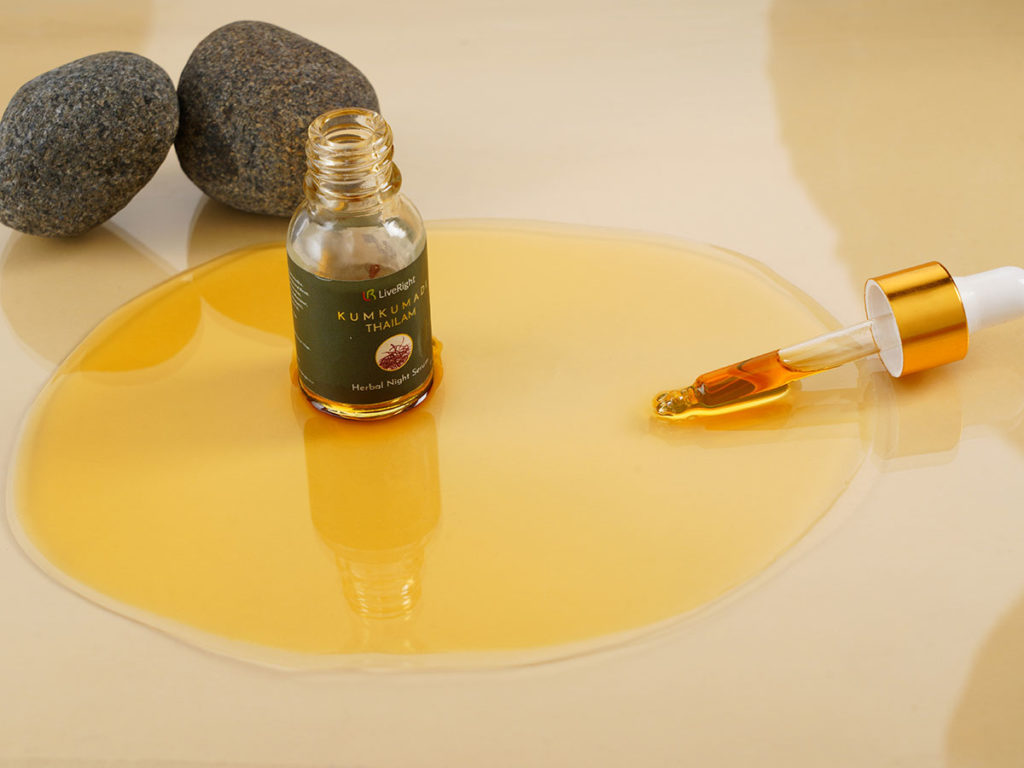 How long does one bottle of Kumkumadi Tailam last?
Kumkumadi tailam comes in a small cute bottle of 15mL. One bottle will last for about a month.
What is the expiry date of Kumkumadi Tailam?
Kumkumadi Tailam expires in 2 years.
Is Kumkumadi tailam an anti-aging oil?
Yes, the Kumkumadi tailam is an anti-aging oil. It contains Manjista, Dashamoolas, Daruhaldi, and Vat vriksha, that have anti-aging properties in them. When used regularly and massaged on the skin, it prevents the formation of fine lines and wrinkles.
Does Kumkumadi tailam remove dark circles?
Kumkumadi tailam contains kesar, chandana, manjista, and daruhaldi that lightens the skin tone and ultimately helps in removing the dark circles. Use it daily and gently massage with your ring finger around the eyes.
How long does it take to show results?
You need to apply Kumkumadi Tailam for about 15 days regularly to see the results.
Conclusion
In this fast-moving world, we seek immediate results for everything. And that's the reason ‌everyone is going for chemical products that claim instant results. Our facial skin needs special care. The chemicals do more harm than good.
Kumkumadi tailam is an Ayurvedic oil and treats the skin slowly to make it glow like the sun.

If you have more questions or doubts about the Kumkumadi tailam, feel free to WhatsApp or call 7550023323.