happy summer mornings!
Summer heat not only increases the temperature of the earth, but it also disturbs your body temperature. The intensity of the increase in heat reduces the cooling nature of the earth. It is because, during the summer season, the environment slowly gets hot and dry.
HOTNESS and DRYNESS are the two qualities that disturb your body. And the most common issue you would be facing is to feel DEHYDRATED.
Dehydration – caused due to lack of water in your body. During summer, your body sweats a lot more than usual. Have you ever wondered why?
Due to too much heat, your body starts to sweat to regulate the temperature of your body. In this condition, the loss of water through sweat must be compensated through the intake. if you fail to provide the required amount of water to your body, then you land up dehydrated. Does that mean, "I must just drink more water to keep me hydrated?"
Nope, just water can't keep you hydrated. During summer, you will feel no or less appetite resulting in low strength. So intake of hydrating foods or drinks is highly encouraged.
Scroll down further to get some tasty summer recipes to keep you hydrated and energetic.
Signs of dehydration
Excessive thirst
Dry lips
Dry skin
Dark yellow urine
Mild headache
Take immediate action if you feel any of the above signs of dehydration. Leaving these minor symptoms unattended may even cause complications like heat stroke.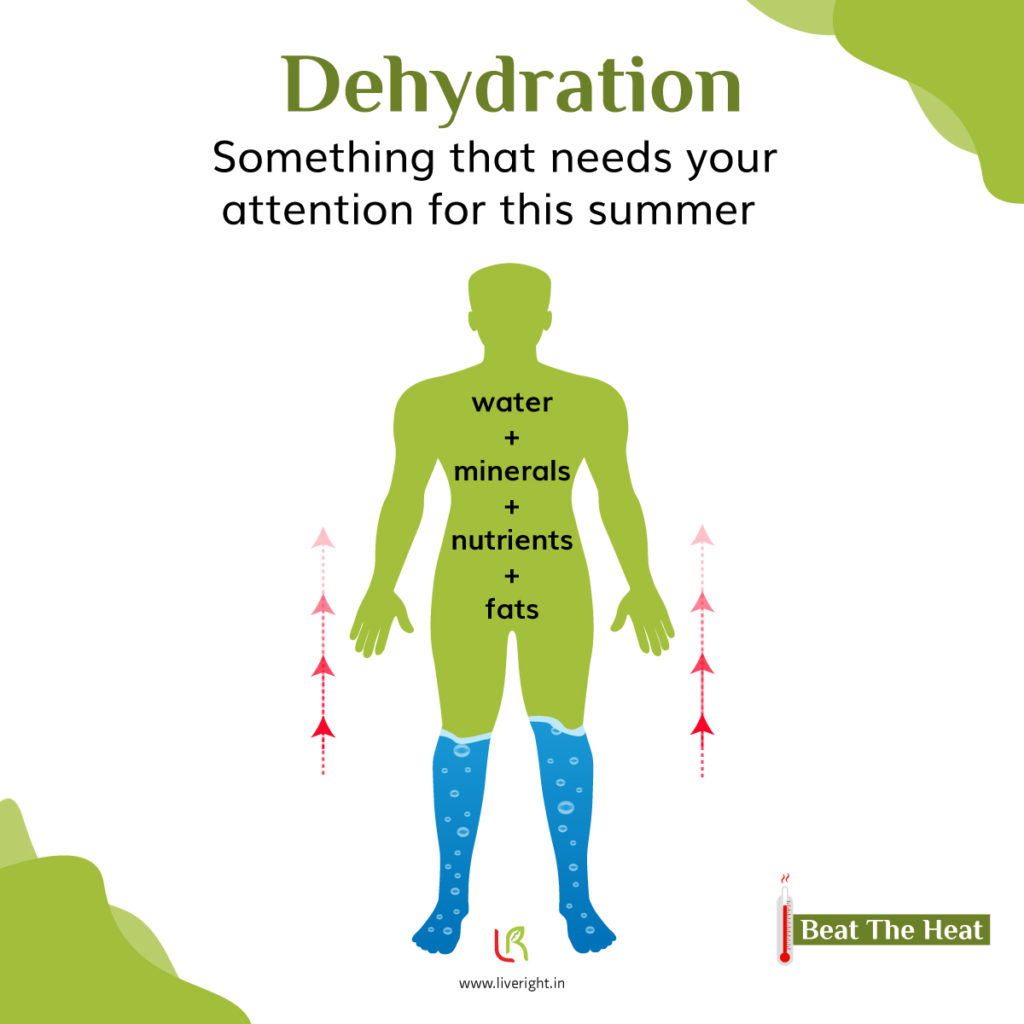 Drinks to prevent dehydration
Lemon juice – one glass of water + 2 tablespoons of lime juice + sugar/salt.
Traditional sweet drink (Panagam) – one glass of water + 4 to 5 tablespoons of jaggery powder + half a spoon of tamarind juice + pinch of cardamom powder + pinch of ginger powder (sukku).
Natural cool drink (Nannari Sarbath).
Palm nectar (Pathaneer) – a natural coolant rich in nutrients. Abundant only in summer.
Ice apple (Nungu) juice – another summer special, extremely good to beat the summer heat.
Tender coconut water – a natural coolant rich in electrolytes.
Sugarcane juice – highly recommended for those suffering from urinary infections due to dehydration.
Seasonal fruit juices prepared with plain water – avoid fruit juices prepared with milk in the form of milkshakes. Ice cubes in fruit juices are strictly not recommended.
Water rich fruits to beat this summer – mango, watermelon, musk melon (cantaloupe – a variety of musk melon species), orange, apple, cucumber, pineapple, pomegranate, grape, papaya, ice apple, etc.
Include water rich vegetables in your diet.
Drinking medicated water rather than plain water is an excellent choice to withstand the summer heat. Common ingredients used to prepare medicated water – vetiver, amla, cumin seeds, fenugreek, asafoetida, coriander seeds, dry grapes, athimathuram (liquorice plant), nerunji mull, and cucumber seeds. Use one or two ingredients mentioned above. Make your regular drinking water healthy as well as tasty to drink.
Simple Ayurvedic Recipes to withstand Summer Heat
Ayurvedic Rasala (lassi)
Ayurveda recommends taking curd in the form of Rasala. Blend 3 cups of curd with one cup of jaggery and one teaspoon of pepper powder.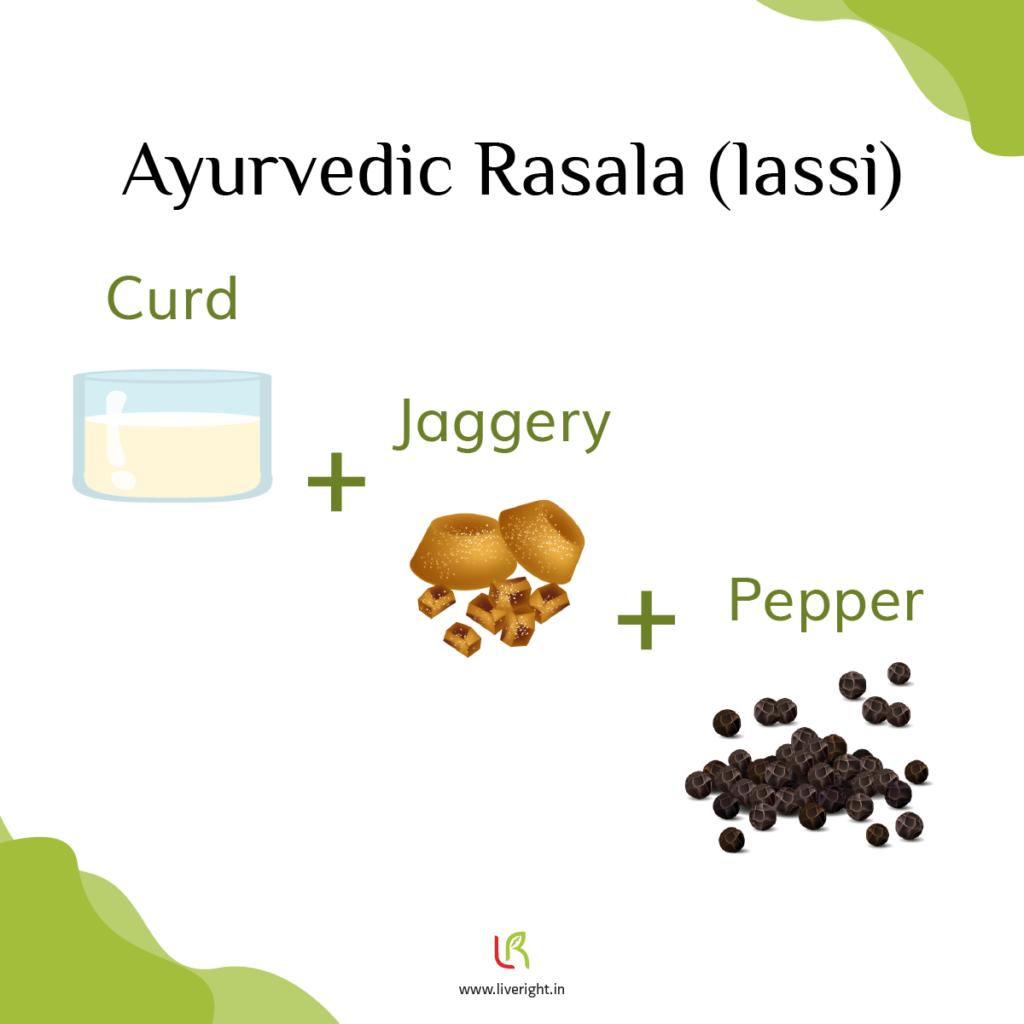 A drink to satisfy your thirst
Prepare your regular grape or nannari sarbath/syrup. Now let's make it more rich and healthy for your body. Add 2 to 3 pinches of dry ginger powder (sukku) and pepper powder in a glass of juice. Also, add honey for sweetness. And finally, garnish your drink with puffed rice. It not only garnishes but also adds nutritional value to your drink.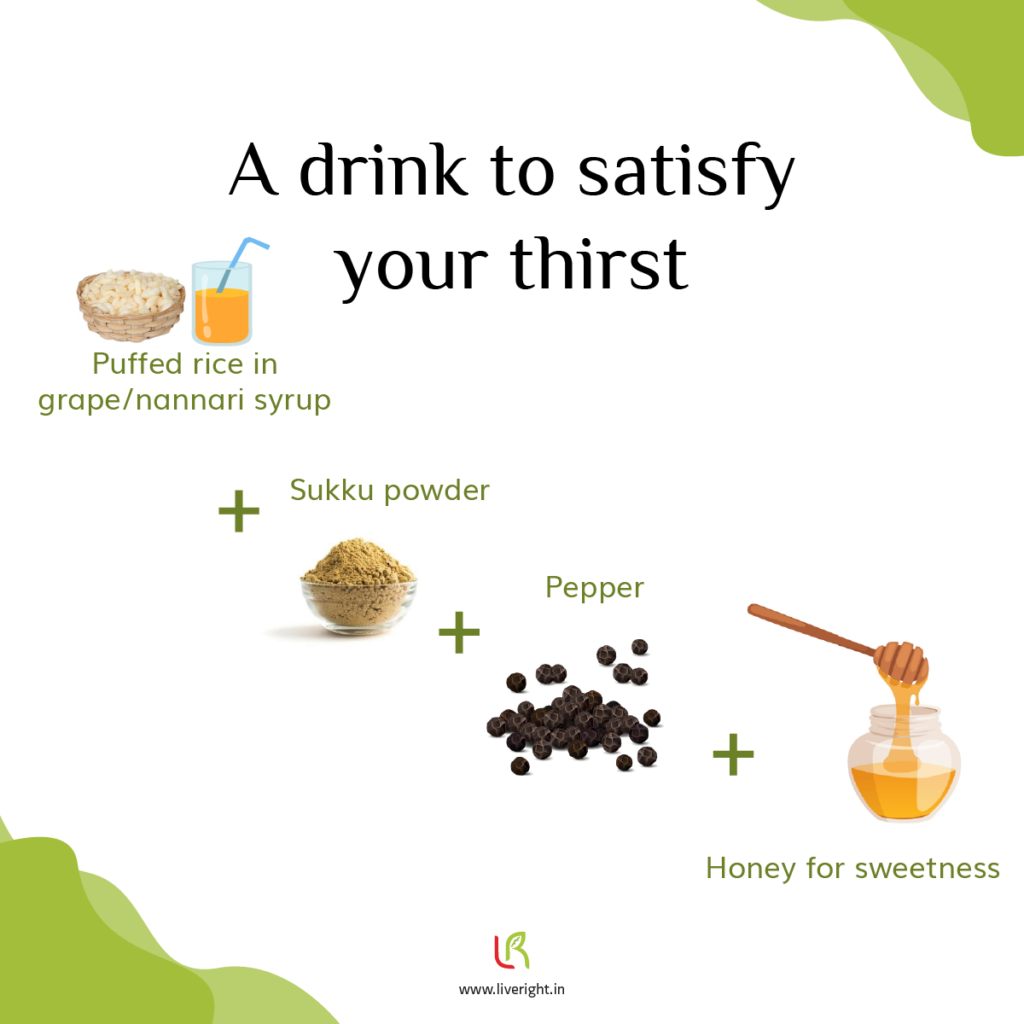 Nutritive congee to make you feel full
Add Kandankathiri/Nerunji mull powder to rice congee – a good choice for those suffering from painful micturition, kidney stones, etc., due to dehydration.
Mung bean congee with fenugreek added – a simple and nutritional supplement that improves your appetite and keeps you hydrated.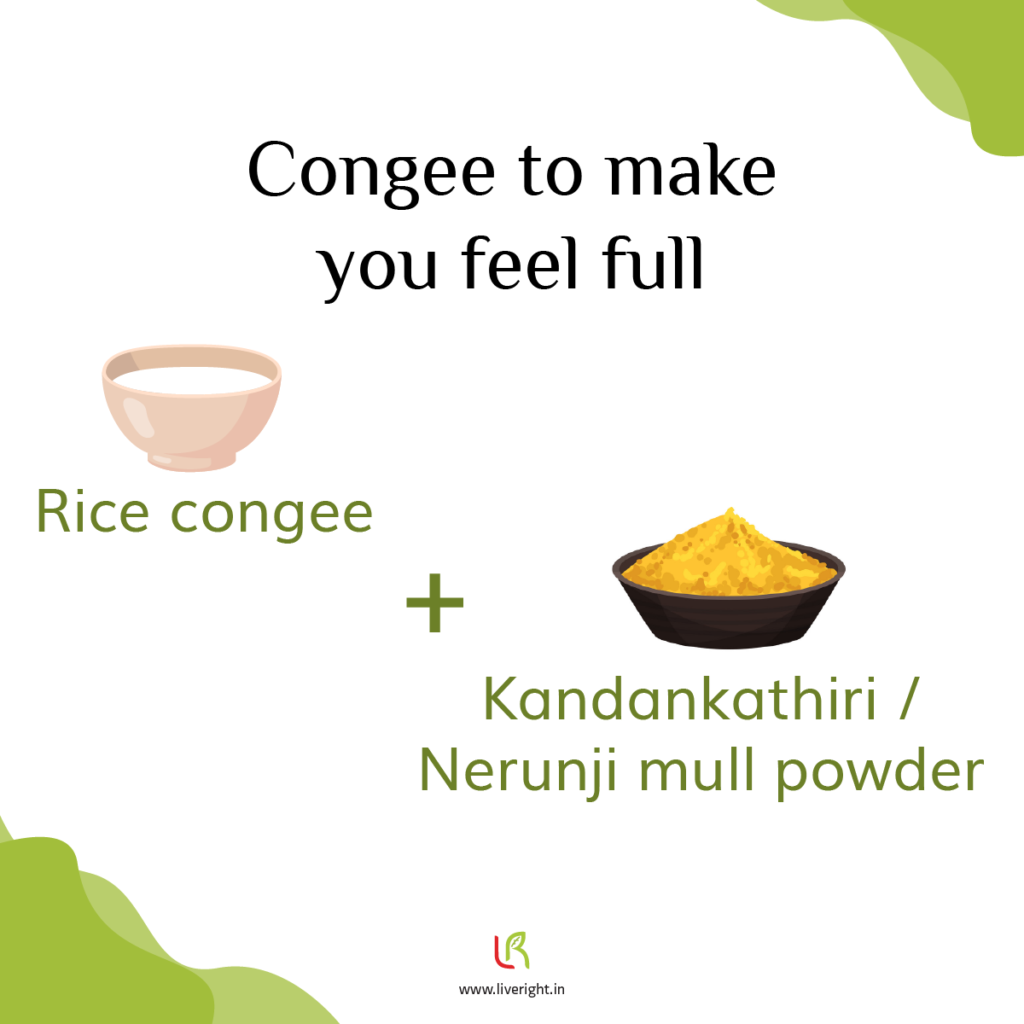 Quick tips for this summer
Include foods that are sweet, bitter, and astringent in your diet. And take vegetables/ fruits (any food item) that are rich in water content and foods that act as a natural coolant.
Reduce the frequency of taking foods that are too spicy, sour & salty – like pickles and fried chips.
Avoid drinking cool water from the refrigerator.
Use moderate strength during physical exercises. Don't push yourself with too much energy to do exercises, as they make you exhausted in this hot summer heat.
Summer isn't that difficult to manage. Keep your body prepared with all nutrients and water necessary. This summer is going to be super cool to enjoy. The above are some general tips mentioned. Use them according to your body type and needs.
RELATED: How to Welcome Spring Season – In Ayurvedic Style
Still, have queries about summer care? Write to us here and we'll connect to our Ayurveda experts!